About us
Nice to meet you! We are the team behind SIAMA World Mission Travel!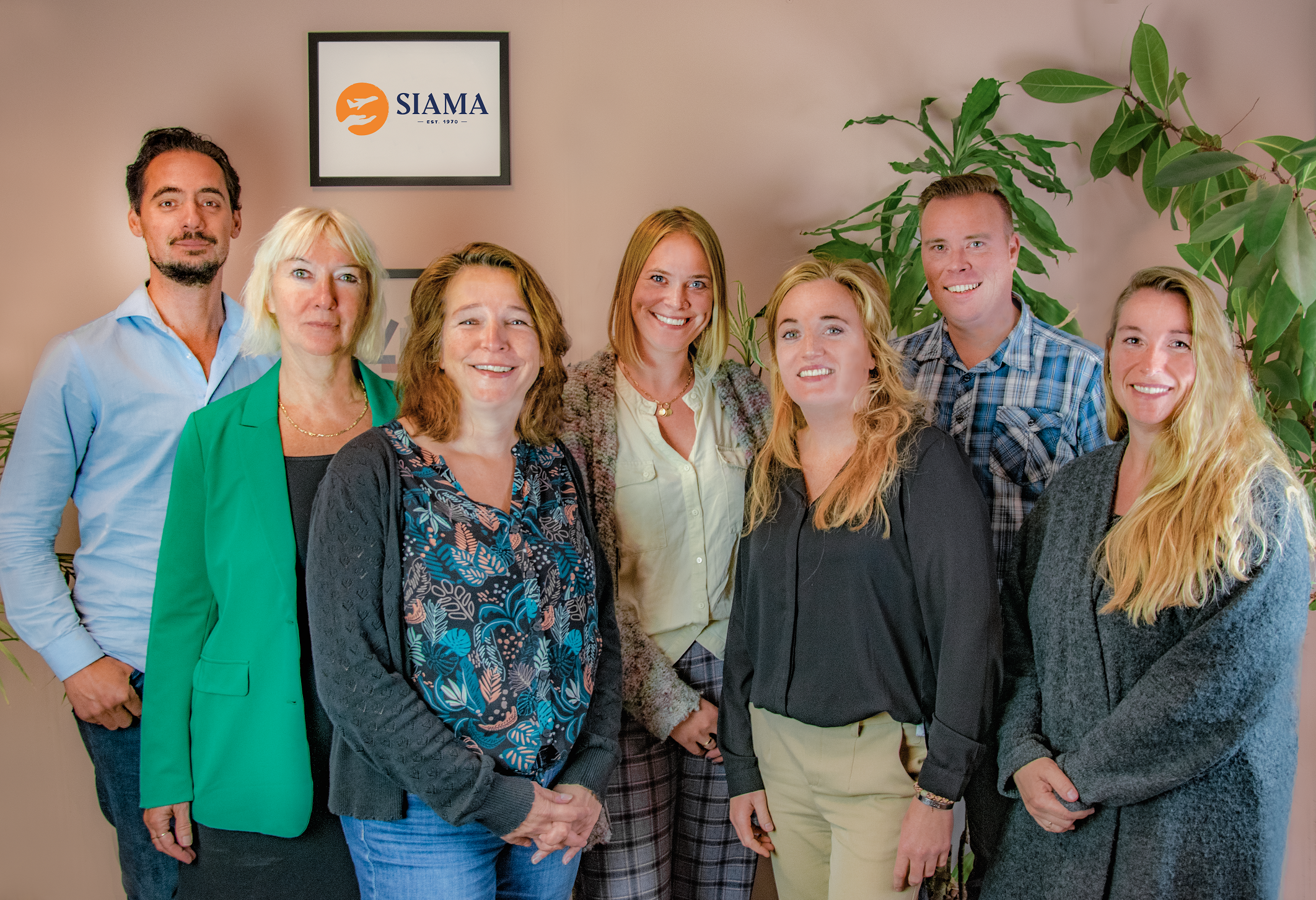 From left to right: Maikel (ICT developer), Els (President), Mariette (Travel Consultant), Linda (Travel Consultant), Nicolien (Travel Consultant), Coen (Travel Consultant),   Miranda (Travel Consultant), ,


Mark 16:15(niv): He said to them, "Go into all the world and preach the gospel to all creation.
Mission of SIAMA World Mission Travel: Serving Those Who Serve since 1970!
SIAMA stands for the Society in the Interest of Active Missionaries Abroad and was founded in 1970.
SIAMA offers advantageous flight tickets and customized travel itineraries especially for you! In line with our shared Christian identity and principles, whether you are in need of one-way, roundtrip, individual, group or multiple-stop over travel arrangements, it is our mission to provide you with our best professional advice in booking your air travel. This way we aspire to be a valuable partner to you & contribute to the missionary and humanitarian work worldwide.
With our committed and competent staff, who do their utmost to assist you, SIAMA aims to give you personal, professional and true-hearted advice in air travel!
'Please do not hesitate to contact us when you are making your travel plans. Reservations can already be made 10 to 11 months prior to departure. This will save you money as cheaper economy seats will most likely still be available.'
It is our mission to assist you and all missionaries, non-profit development workers
and international volunteers with air travel around the world!
We also assist your direct relatives, who wish to visit family in the Mission Field.
In addition, we specialize in various Group and Conference Travel arrangements!
Please do not hesitate to contact us for any of your travel needs or questions relating to our services!
SIAMA's idendity and core values
We are exclusively working for you, to provide you with quality and advantageous airfares.
We value personal contact, so we are able to provide you with tailor-made travel schedules inline with your needs for your Mission-Charity Work.
You do not need to browse through complicated websites to check and compare flight schedules. Just ask us (link) anything you would like to know about flight inquiries, travel conditions, date changes, extra luggage or more information about SIAMA's services (link)!
We are just one email away from you! We will respond soonest and at the latest within one working day!
SIAMA has a small and experienced SIAMA team of travel consultants!
SIAMA operates for already 47 years and exists since 1970!
We are more than capable to deliver the reliable quality you need due to our experience in worldwide air travel, our dedication to Serve Those Who Serve and our ability to offer youtailor made travel proposals on first class airlines.
A large number of First Class Airlines, like British Airways, American Airlines, Air France, KLM, Lufthansa, Swiss and many more, have a good heart for SIAMA because of our specific goals to serve you. They give us the opportunity to provide you not only with competitive airfares, but also with special advantages, such as date flexibility and extended luggage allowance.
SIAMA is a Christian air travel operator, which exclusively takes care of the air travel for Missionaries, retired Missionaries, Non-profit Development Workers, Bible School Students, Speakers at Religious Conventions and many others who contribute to better our world society.
We are dedicated to provide you with the best possible prices and travel arrangements so that your funds can be saved as much as possible for other worthwhile matters in your Mission-Development-Charity work.
SIAMA consists of a dedicated and motivated team with a warm heart for the spread of God's love. This gives us the advantage to understand and assist you in your tailor-made air travel needs.
The SIAMA Team is sincerely grateful to all of our members who give us the opportunity to serve them in any of their travel arrangements!
SIAMA Children Namibia (SCN)
SIAMA Children Namibia (SCN) is a Dutch foundation dedicated to the underprivileged children in
Namibia.
What our clients say about us:
"In 13 years in Congo and Zambia, plus six years since then, I have appreciated the reliable help of SIAMA in finding flights that were flexible and had good luggage conditions for my 6-head-family."